Basic Policy on Information Disclosure
The Company aims to fairly, timely and accurately disclose information to all stakeholders including market participants. When disclosing information, the Company complies with the applicable laws and regulations, and strives to appropriately disclose its management strategy and financial information so that its business activities are better understood.
Information Disclosure Standard
The Company discloses information in accordance with the Financial Instruments and Exchange Act and other applicable laws and regulations as well as the Timely Disclosure Rules established by the Tokyo Stock Exchange.
In addition, the Company strives to actively disclose information, to the extent possible, that is not subject to applicable laws or regulations or the Timely Disclosure Rules but that is considered useful to better understand the Company.
Information Disclosure Method
Information disclosure pursuant to the Timely Disclosure Rules is published through the timely disclosure information communication system (TD-net) provided by the Tokyo Stock Exchange. In addition, annual securities report and other disclosure documents are published through the electronic disclosure system (EDINET) operated by the Financial Service Agency.
Information that is not subject to the Timely Disclosure Rules or applicable laws or regulations but that is considered useful to better understand the Company is promptly disclosed on our website, etc.
Information Disclosure System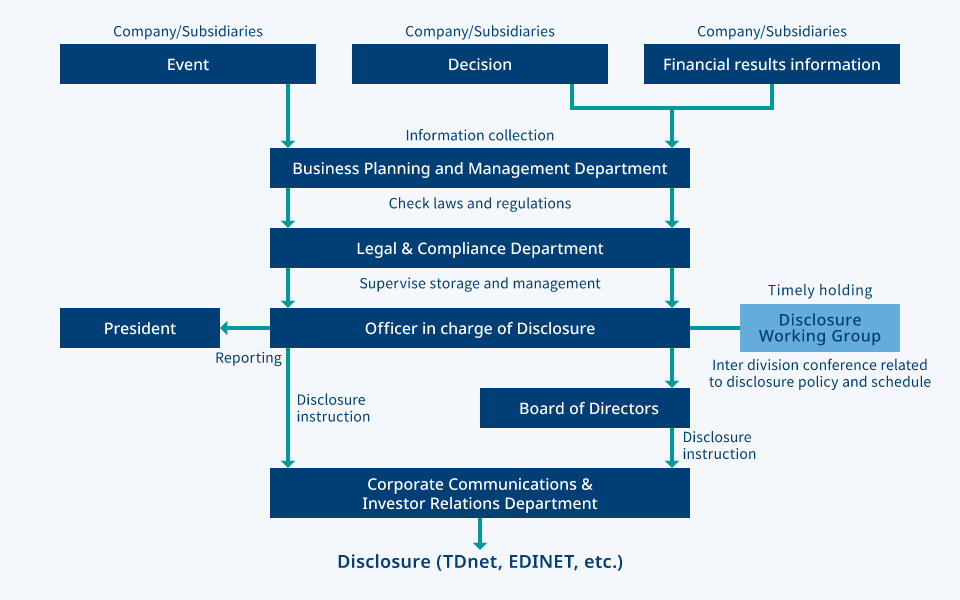 Quiet Period
In order to prevent leakage of financial results information and ensure fairness, the Company has a quiet period commencing on each quarterly closing date and ending on the date of announcement of results for the quarter. During this period, the Company refrains from answering questions or commenting on said results. However if, during the quiet period, a significant discrepancy is expected from the published performance forecast the Company will disclose results in accordance with the Timely Disclosure Rules.