Interview with the President
Q1

Please describe Hulic's business?

As of the end of December 2020, Hulic had a real estate portfolio of 259 lease properties throughout Japan. Most of our properties are located within a three-minute walk from a station in one of Tokyo's five most central wards. This advantage of location allows us to enjoy a vacancy rate below 1%. We have achieved growth by reconstructing of older properties in central areas of Tokyo and acquiring additional properties to boost our total leasable floor space. We own many bank branch offices and corporate apartments as core assets due to our historical relationship with Mizuho Financial Group. Recently, we piloted conversion of building use at the time of reconstruction to create residential properties for the elderly, commercial facilities, tourist hotels and other type of properties according with nation's demographic shift.
Q2

Since your listing on the First Section of the Tokyo Stock Exchange in 2008, you have achieved continuous growth in profits and dividends. How was this accomplished?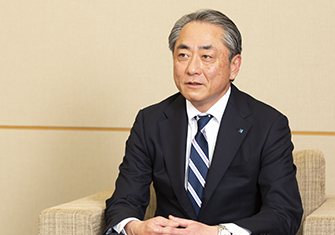 I would particularly put mid-term profit growth as a top priority in my management goal among several performance measures. Regardless of COVID-19 expansion, we have continued to post increased income. In 2020, we have achieved record-high levels. Anticipating conditions five years ahead and pursuing a strategy of 'selection and focus' in deploying our operational resources, we have sought to build a solid business base that resists fluctuations in the economy. Efficient operation with minimal manpower is also one of my goals and we have achieved the highest levels of profit per employee among numerous listed companies at Tokyo Stock Exchange.
Q3

There is the emerging concern of price rising in Tokyo's real estate market but overall inflation, which Bank of Japan set to achieve, has been completely subdued. What is your assessment?

I have a feeling that real estate value in prime locations in central Tokyo have risen sharply due to the influx & people into Tokyo, while the other area responded modestly and the gap between of those have widen significantly. The appetite for Tokyo properties remains strong by both overseas and domestic investors, while suburbs and regional cities are mostly unchanged. Since Hulic has limited investment location target mainly in Tokyo central 5 wards, the tide is running in our favor and we have continued growth for many years.
Q4

Is it true that building size matters?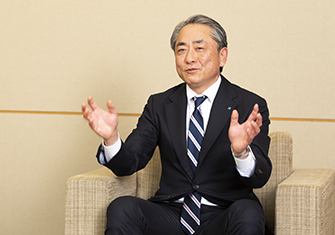 In our portfolio, we will continue to concentrate operational resources on mid-size buildings. We have judged that demand for large-size buildings will not be as strong as mid-size buildings, given that many of Japan's large cap listed companies already have real estate holdings, and the number of giant multinationals are moving towards Singapore and Hong Kong due to Japan's high corporate taxes and lack of English communication culture. 99% of companies in Japan belong to small and mid-sized category, and such companies are our potential target tenants. Through the strategy of prioritizing location with mid-sized facilities within a three minute-walk from a station in one of Tokyo's five central wards, we aim to maintain our unbeatably low vacancy rate.
Q5

Who are Hulic's main tenants?

Thanks to our historical relationships with Mizuho Financial Group, bank branch offices account for about 16% of leasing revenues. In residential sector, some facilities are leased to companies as staff accommodation, while rental apartments and facilities for the elderly are subleased to agents to avoid exposing us to vacancy risk. Because our leasing agreements include a large portion of long-term contracts, conditions are very stable.
Q6

The Japanese media carry daily reports about demographic changes such as the shrinking and aging of the nation's population. What is your view?

Given Japan's declining population and its increasing age, it will naturally appear that demand for office spaces gets weakened. We promote 3 main future growth business (Senior & Health market, Tourism business and Environmental business).
Q7

What is Hulic's stance on entering the overseas real estate investment market?

We booked a good profit in 2015 by exiting the London Mayfair's mid-size office property before national voting on EU exit. The weak yen was one factor for the profit and we learned that overseas investment involves numerous uncontrollable risk factors. Under shrinking and aging of nation's population, other Japanese firms have announced aggressive investment plan in overseas countries which we think various risks cannot be overcome without large capital base and high expertise. Contrary to them, we keep focusing on domestic market with area of stable growth possible, and central focus of such strategy will be properties related to seniors, tourism, and environment.
Q8

Hulic is one of the very few developers who have avoided residential development and sales.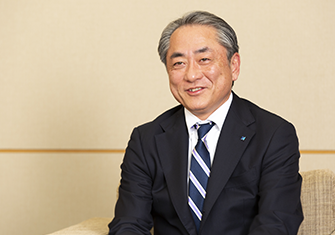 I think that chances of keeping high growth in residential property development business are slim in Japan. Vacant existing home issues already identified nationwide as a social problem and will keep rising as nation's population continues to decline. On the other hand, to the rise of the nuclear family and the increasing number of single-person households, the demand for both single-unit or corporate apartment should remain steady in the Tokyo metropolitan area. We will touch on corporate residential leasing business under master-leasing structure to avoid exposing us to vacancy risk.
Q9

Hulic acquired Simplex Investment Group in 2015 and Nippon View Hotel in 2019. Do you plan to continue M&A as an asset expansion strategy in the future?

While M&A offers major advantages of scale in a short time of period, it also means taking on a package of unattractive assets. Whether this challenge can be managed successfully following the merger and contribute to growth will be the crucial factor in such decisions.
Q10

Which Key Performance Indicator (KPI) are you looking?

I try to keep three things in my mind to achieve at the top level with good balance - financial soundness, profit growth and management efficiencies. Our updated ROE, which considered as one of the most important managerial goals in general, showed around 13.4% and achieved the highest level of our industry, but that never put as a company's sole management goal. Both high level of capital ratio (around 32.7%*) and healthy debt/equity ratio (around 1.7 times*) are also my strong interests. As I subject to stringent monitoring these figures, not only have we recorded outstanding CAGR profit growth but also financial rating upgraded to A+ in 2014.

*50% of hybrid finance in FY2020 (100bn=200bn×50%) was calculated as nominal equity. (End of 2020/12)
Q11

Please discuss Hulic's business performance in the fiscal 2021 under review.

I see ordinary income as our guiding management target. This is because it serves as a good indicator of business soundness, since it takes account of interest paid on borrowings as well as operating income, which represents the profit from our core business, but excludes extraordinary items such as sales of investment securities and fixed assets. In fiscal 2020, regardless of COVID-19 expansion, ordinary income booked ¥95.6 billion, rising year on year by ¥11.0 billion. I have a good prospect of achieving further increase in this year.
Q12

What is the centerpiece of the Medium-and Long-term Management Plan?

We will create eco-friendly and highly earthquake resistant leasing portfolio through reconstruction of bank branches and development business. In addition, we will continue to focus on 3 future growth business (Senior & Health market, Tourism Business and Environment Business) and new business including education business for children.
Q13

What are the risks Hulic faces?

Through our bank borrowings, we are exposed to risks from interest rate increases and potential funding issues. Our response must be to promote a shift to ten year loans/bonds with fixed interest rates in principle, and to win the confidence of financial institutions by continuing to grow and posting profits and keep the high credit rating (A+ currently). As we have a large number of office buildings, earthquake is also a major risk. We have completed reinforcements that in theory will enable our buildings to withstand a quake of intensity level 7 on the Japanese scale. New buildings are designed as far as possible with quake-damping and quake-proofing measures.
Q14

Could you tell outline some examples of Hulic's Sustainability activities?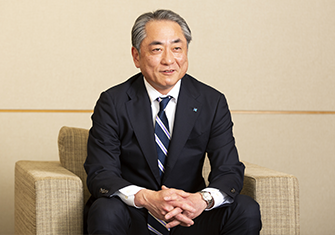 We have introduced earthquake-resistant technology in our new buildings alongside a range of environmentally conscious initiatives. We also offer positive support to female career development. Moreover, we became a sponsor of Japan Para - Badminton Federation and Shogi competition. In terms of giving workers equal opportunities, we won an award as a company with an outstanding record in the employment of people with disabilities. Moreover, since setting up the HULIC Student Architecture Competition, we have added fresh initiatives each year including programs designated to stimulate students' intellectual curiosity.
(January 28 , 2021)