Information Security Management
Fundamental Approach
We recognize that it is our social responsibility to effectively protect our information assets. To protect these assets from various threats, we have established an information security management system, and are ensuring that we operate and manage information asssets carefully based on information management rules that include rules on handling information.
Hulic categorizes information assets according to their importance and usage, managing them appropriately to ensure confidentiality, integrity and availability.
Specifically:
●

Organizational security control measures to appropriately implement and promote information management

●

Human security control measures such as education and training for employees, regular inspections and audits, etc.

●

Physical security control measures such as appropriate access control

●

Technical security control measures to ensure the appropriate management of information assets
Confidentiality:

Ensures only authorized persons can access information assets

Integrity:

Protects the accuracy and completeness of information and processing methods

Availability:

Ensures authorized users have access to information assets when needed
Information Security Management System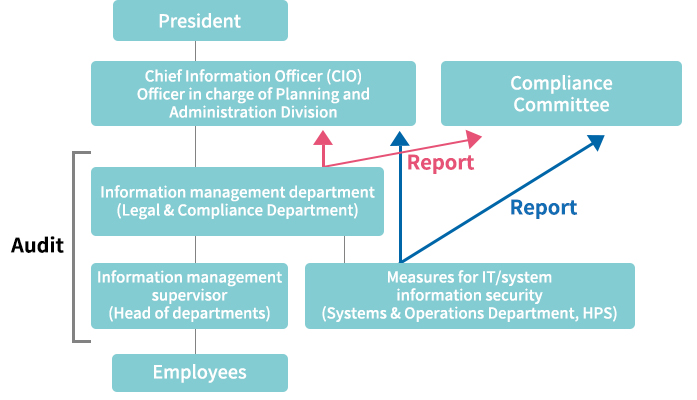 Privacy Policy
In full respect of the importance of protecting personal information we properly handle personal information in compliance with the Personal Information Protection Law (the "Privacy Law") and other relevant laws and guidelines, and take appropriate measures to ensure that personal information is secure. We make efforts to conduct training and education for our employees so that personal information is appropriately handled. We immediately respond to any claims or concerns regarding the handling of personal information, and review and improve, as necessary, our provisions for the handling and safeguarding of personal information.
We did not identify any substantiated complaints concerning breaches of customer privacy and there were no significant incidents or cases regarding leakage of personal data in FY2020.